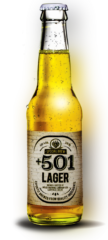 +501 Beer – Case
Quick Overview
A unique non-traditional brew, with extracts sourced from local agricultural staples to create a light easy to drink beer. +501 Lager is complemented by its subtle hop aroma and lighter maltiness and flavor heightened by Belizean grown crops.
Brewed by the Belize Brewing Company
The price includes crate and bottle deposits. If crates and empty bottles are returned, refunds will be issued for returned items.